The only electrolytic ozone generation(EOG) you can count on
---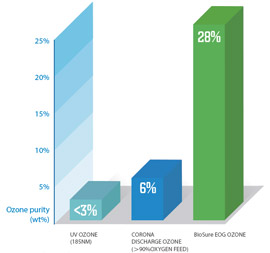 ● Unlike Corona Discharge generators, Biotek Ozone technology achieves a high concentration of ozone effectively dissolved in water:

Biotek Ozone EOG vs. Traditional Corona Discharge generates a maximum 6% of ozone by weight versus Biotek Ozone technology which produces almost 5 times at 28%. Biotek Ozone evolved technology produces more ozone with less energy.
---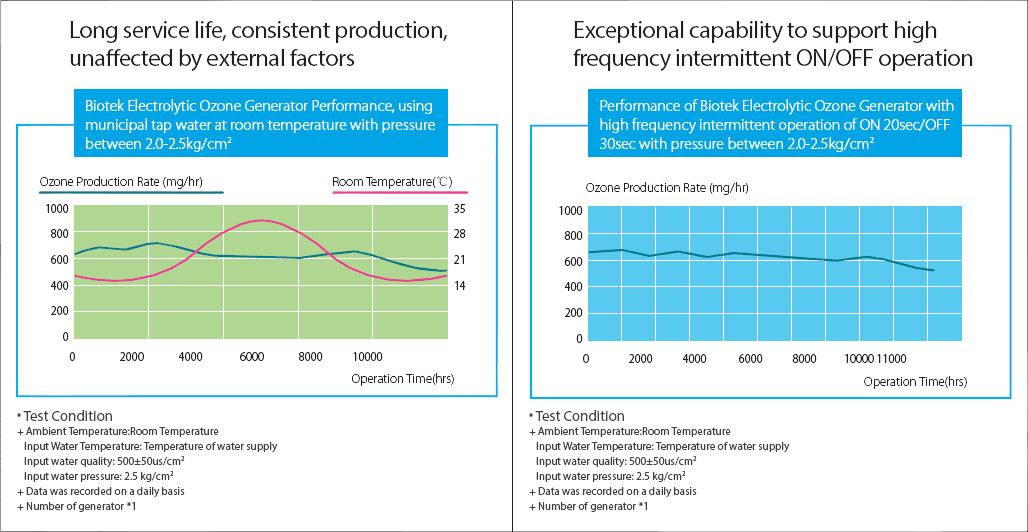 ● Instant high concentration as no one can achieve
Only Biotek Ozone technology features instant high concentration ozonated water without any preparation, standby, or warm up required.High purity ozone production for safety and assured disinfection applications.
---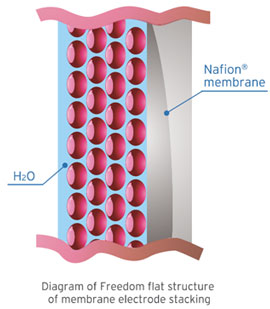 ● Nanotechnology
Using nano-catalyst to improve the catalytic reaction rate, activity and selectivity has been applied in Biotek's EOG process. When reviewing the central milestones in our development of electrocatalysis for electrolytic ozone generator operating in low voltage conditions, the following are the most outstanding regarding our nanotechnology applications:

Establishment of carbon-supported Pt catalysts as a means to achieve higher and more stable dispersion of the precious metal electrocatalyst on an electronically conducting support.
Implementation of Pt/C catalysis in EOG technology using Nafion® as a proton conducting and bonding agent. (Biotek become a strategic partner of Dupont, the creator of Nafion®. )
Optimization of the catalyst layer composition and thickness in ozone cell for maximum catalyst utilization in EOG operation on deionized water feed streams.
---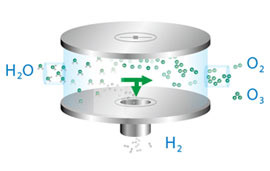 ● Toxic Nitrogen Oxide (NOx) Free revolution from old EOGs.
State-of-the-art electrolytic technology to produce high purity ozone: Our patented technology generates pure high concentration ozone from tap water, which is purified within our ozone systems. No other substances participate in the electrolysis, so that only pure ozone without any harmful byproducts is produced.
---
● Biotek Ozone systems emit practically no ozone off-gas whereas Corona Discharge systems have high ozone emissions into the ambient air:
Biotek Ozone has developed its own superior dissolution technique and employs its patented compact off-gas destruct unit inside Biotek Ozone Systems. Effective dissolution of ozone reduces the amount of gaseous ozone in the first place. Any remaining off gas is then eliminated by the destruct unit before ozonated water is released, without interrupting the outflow. That is how our systems meet the Occupational Health And Safety Standards and Permissible Exposure Limits for ozone emissions into the ambient air.
---
We at Biotek Ozone are dedicated to providing our customers with complete solutions for their and sanitation needs through our cost-saving and ecologically-responsible units.
---
| | | | |
| --- | --- | --- | --- |
| Ozone and UV Lamp Comparison | Biotek Ozone Generation | Corona Discharge Ozone Generation | Ultraviolet Lamp |
| Instant High Ozone Concentration | ∨ | X | - |
| Constant High Ozone Concentration | ∨ | X | - |
| Reliable Water Disinfection | ∨ | X | X |
| On-Demand Operation | ∨ | X | X |
| Consistent Output In Varying Conditions | ∨ | X | X |
| Toxic Nitrogen Oxide (NOx) Free | ∨ | X | ∨ |
| Residual Disinfection | ∨ | ∨ | X |
| High Penetration | ∨ | ∨ | X |
| Low Maintenance Frequency | ∨ | X | X |
| Performance Validation Indicator | ∨ | X | X |
---
CORONA DISCHARGE SYSTEM
Biotek OZONE SYSTEM
ADVANTAGE
Air as source,
which is free & unlimited

Consistent production and high ozone purity,
without NOx & Nitrogen source
Low energy consumption
Steady concentration & high efficiency
Compact & easy maintenance
Generate O3 from tap water
Long component lifetime
Low off-gas, OSHA compliant

DISADVANTAGE

Unreliable production & low ozone purit
Generation of NOx & Nitrogen source
Low & variable concentration & efficiency
Influenced by air quality & humidity
Additional equipment required(air drier & oxygen
concentrator), & the resulting extra maintenance
Low system reliability
Contamination due to impurities in output

None

---
And much more from Biotek Ozone system
High reliability and performance. User-friendly design.
Built-in ozone destruct unit for off gas safety and compliance.
No alteration to water characteristics to ensure adaptability to application and demand.
Eliminates chemicals in the washdown.
Eliminates chemical storage, handling and associated risks and costs.
Kills microorganisms and eliminates .
No THM or other harmful or unnecessary by-products that can create additional unwanted substances.